IAN BOULTON IS ALWAYS BUYING STAMP COLLECTIONS, INCLUDING SINGLE BETTER STAMPS, FULL COLLECTIONS, POSTAL HISTORY, AUSTRALIA POST ISSUES PLUS YEARBOOKS, POSTCARDS & EPHEMERA. HE WILL BE AT THE LOCATIONS LISTED ON THE RIGHT SO FOR THE BEST PRICES WITH IMMEDIATE PAYMENT, COME ALONG AND RECEIVE YOUR FREE BUYING VALUATION. HOME VISITS AVAILABLE FOR LARGER COLLECTIONS BUT PLEASE TELEPHONE TO ARRANGE A CONVENIENT TIME.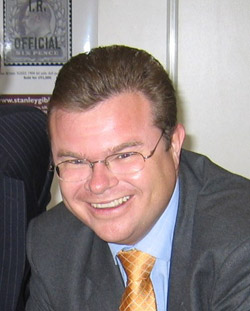 Ian Boulton is a Perth based full time registered stamp dealer and one of the few remaining full time stamp dealers in Australia with over 30 years experience in philately. With international experience gained at Stanley Gibbons in London and then his own stamp dealing business started in 2005, his professionalism and knowledge has resulted in a loyal following. In addition, he started the annual Perth Stamp & Coin Show in 2012 and this has now become Perth's premier philatelic and numismatic event held every August with 30 International, national and local dealers. Ian is a member of Philatelic Traders Society, London, the vice-president of the Australian Philatelic Traders Association and the Internet Philatelic Dealers Association and hence pledged to the very highest commercial standards. So, do not hesitate to contact Ian for a free valuation of your stamps, with cash paid instantly should you wish to sell following this consultation. Alternatively, if you are seeking that elusive stamp or even new to the hobby, you will always be greeted by a level of professionalism and enthusiasm to put you at ease and ensure you will enjoy the king of hobbies!



Perth Stamp & Coin Show
The 2019 Perth Stamp & Coin Show is a three day show on the 29th, 30th and 31st March 2019 that brings together not only International, Interstate and local stamp, coin, banknote & postcard dealers but also local collectors with their own single tables selling their excess or unwanted material, very similar to the European "Flea Market" style stamp shows. This will be a drawcard for all collectors as it means there is something for everybody's budget.
The inaugural show in 2012 was hugely popular with a strong turnout of collectors and has continued since with an increased number of dealers and larger crowds through the door resulting in this year having the first 3-day show. This show has now become an annual event and the only Perth show that features both stamp and coin/banknote dealers in one location, in fact a fantastic opportunity for dealers and collectors to buy and sell.
PERTH STAMP & COIN SHOW
SOUTH PERTH COMMUNITY CENTRE, South Terrace, South Perth
Friday 29th March 1.00pm-6.00pm
Saturday 30th March 10.00am-4.00pm
Sunday 31st March 10.00am-3.00pm
Stamps, postcards, coins, banknotes, medals & collectables • 32 International, interstate & local dealers • Local collectors "flea market" tables with many bargains! • Extensive range of albums, accessories & literature available • Plenty of parking & café facilities • Free stamp, postcard, coin, banknote & medal valuations • $2000+ worth of prizes to be won • A limited edition overprinted PNC's (100 only) • Meet fellow collectors & learn about the many great clubs you can join • FREE ENTRY